I write general yet ordinary thoughts on household, parenting, lifestyle, and product reviews. I am passionate about writing; I have been blogging for over 6 years now that I can't seem to ignore my websites despite the very hectic schedule I have as a full-time mom to two daughters, a homemaker, a homeschooler, and a back-to-school parent. As to how I manage my time, I have no idea but I know I have a God Who guides me in all of these endeavors.
I am not strong, but a person of strength I am. I love blue and white and red together. Filipino style of vegetable salad of any kind is heaven to me. I think a lot. Singing lightens my heart.Books, magazines, and any sensible write-ups kill my time. I hate injustice, corruption and dishonesty. I talk. But I write more.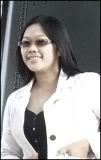 The THINKER-WRITER that I am!
For inquiries, e-mail me at rarest underscore tol at yahoo dot com. Thank you!